Most of the recommendations out there for brands on how to build trust online tend to focus on one sales channel. Whether it's telling direct-to-consumer brands how to optimize their user experience onsite, large consumer packaged goods companies how to drive review volume on retail sites, or third-party Amazon sellers how to generate review volume via customer email programs, there's little guidance on overarching strategies that go beyond a single platform. The fact is, there is no one-size-fits-all solution for building trust with your customers in e-commerce, but there are some universal truths that can be used as guardrails when you're building or growing your business.
For the 2019 Edelman Trust Barometer Special Report: In Brands We Trust?, Edelman asked consumers what brands should do to earn their trust. We analyzed those responses ("Brand Must-dos") and took them a step further by translating them to the e-commerce space. Here are three insights for marketers selling online: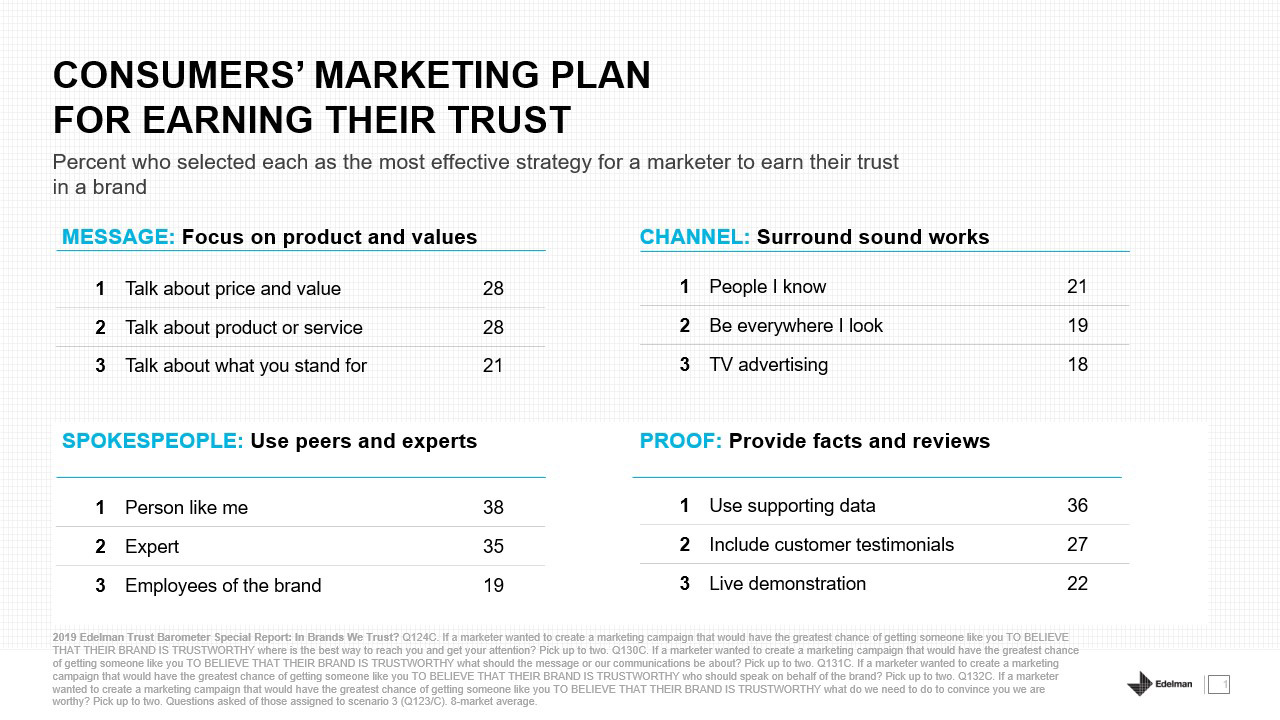 Brand Must-do #1: Focus on your products and values
Translation for e-commerce: Provide robust, relevant product information across channels
Product content is the base of the e-commerce fundamentals pyramid for a reason. Product specifications are the No. 1 type of content consumers rank as important to them when making a purchase—76 percent, over reviews at 71 percent (Episerver Reimagining Content Report).
Savvy brands understand that in the e-commerce landscape, quality content has replaced salespeople as the place where people learn about a product (and ultimately how they make decisions about a brand). The most trusted brands ensure that all of their products have robust, accurate and relevant content online. That includes checking that all product detail pages (PDPs) contain excellent core content—multiple high resolution images, longform, unique SEO-friendly product descriptions and mobile-friendly titles. It also means they add features like product comparison infographics and usage videos. And it's not a "set and forget" process; the winners in this category understand the importance of iteratively improving until their entire catalogs have excellent retail health.
Inaccurate or misleading content has massive consequences—98 percent of shoppers have been dissuaded from completing a purchase because of incomplete or incorrect content and 50 percent have returned an item they bought online because it didn't match the product description (Salsify's 2017 "Cracking the Consumer Code" Report).
It's also important not to prioritize one channel over another – although Amazon captures up to 75 percent of product searches for some categories, consumers still use brand and retailer sites throughout their purchase journeys, especially for high consideration categories. The content on all of those channels needs to be up-to-date, consistently accurate and helpful for consumers.
Brand Must-do #2: Leverage peers as experts
Translation for e-commerce: Drive large quantity of positive reviews on both owned sites and third-party marketplaces
Too many brands think reviews are a "nice-to-have" or only consider them after the fact, but the data doesn't lie: 77 percent of consumers say good reviews are a deal breaker or deciding factor in their buying decision (2019 Edelman Trust Barometer Special Report: In Brands We Trust?). Brands need to think about how to drive both quality and quantity of product reviews from day one. A brand's most powerful review is the first one – when a page's review count goes from zero to one, traffic more than doubles and conversion increases by an average of 65 percent (EDGE by Ascentiall).
Positive reviews have enormous consequences on retail and marketplace website algorithms. On Amazon, they are directly associated with a positive impact on organic search rankings, driving traffic and sales. Products with rating averages above three stars qualify for a broader selection of marketing and promotional campaigns. Consumers often consult Amazon reviews when making a purchase decision in-store, and reviews can help convey brand integrity and instill customer confidence.
There are several ways to increase and improve your brand's review health on your owned sites and marketplaces. Give priority to the products that warrant higher consumer consideration or a longer sales cycle; reviews have a higher impact on these types of products. A 2013 Amazon study identified 21 reviews as the point of diminishing returns. On average, products with 21+ reviews will have twice the conversion rate of those with 20 or fewer, so target that as your minimum.
First-party sellers should test third-party review programs (especially those who allow retailer syndication!) and retailer review programs (like Amazon's Vine program). Third-party sellers should drive review volume with well-planned email campaigns. Savvy digitally native brands also encourage customers to review their products by including marketing inserts in the product packaging itself. And remember: Reviews must be authentic. It's against Amazon and retailer.com policies to incentivize reviews via coupons or similar methods.
Being an active participant in your brand's Q&A section on Amazon and responding to reviews on other sites have many important trust-building benefits. They allow direct conversation with shoppers (something that brands can't get any other way in the marketplace ecosystem) and can answer questions about the product that can prevent shoppers from buying and returning (and mitigating the risk of negative reviews and poor experience).
Brands Must #3: Show my brand in the hands of people I know, in the places where I already am
Translation for e-commerce: Leverage credible third-party influencers and user-generated content to insert your brand into your customer's feed
There are many important marketing lessons for established companies to take from the rise of digitally native disruptor brands, but perhaps the largest is this: Do not underestimate the importance of social media as a credibility and conversion driver. Twenty-nine percent of consumers say researching or finding products to buy is their main reason for using social media, and 25 percent follow brands they're thinking of buying something from (Global Web Index).
Some of today's most successful disruptor brands built most of their brand equity off creating and maintaining a relationship with their fan base via social media. Glossier, for example, has amassed more than a million followers on Instagram in a year. For its most successful launch to date, the brand gifted products to 500 superfans who had previously bought the most items or were the most engaged. Interesting fact: Glossier reports it grew 600 percent year over year in 2016. Social media influencers are also a key partner – as shown on Edelman's study, 58 percent of respondents said they bought a new product in the last six months because an influencer endorsed a product.
Social media platforms have made enormous investments in the past year to evolve their commerce capabilities and shorten the number of steps it takes for a user to purchase. In March, Facebook formally launched a limited beta U.S.-only release of a program called "Checkout on Instagram," which lets customers complete and track purchases without leaving the app. Direct-to-consumer brands can already use a number of tools, such as Shopping on Instagram (which includes features like product tagging, which will direct people interested in a brand's items to the product page of their website so that they can make a purchase). America's top four retailers have all built out significant media network capabilities in the past 12 months and will continue to develop tools which allow brands to be seen in the hands of the people they're already following on social media.
E-commerce has changed the roadmap for brands to build relationships with consumers much as digital did for established brands over 20 years ago. As this space continues to evolve, brands should pay close attention to what their customers and doing and saying. In this case, we hear buyers are telling us that 1) they want to make more informed decisions; 2) other consumers' opinions matter and 3) seeing products in the hands of influencers and on their social feeds is key. Companies that can fulfill these needs will reap the benefits.
Kris McDermott is senior vice president, Digital.