The 2019 Edelman Trust Barometer: Employee Experience report explores in great depth the nature of — and the opportunity that comes with — the employer's ascent to the most trusted of societal institutions. More than government, media, or even NGOs, people trust "My Employer" to do what is right. Even those who are otherwise disenfranchised and distrusting still place their faith in their employers.
NEW VERSION: 2021 Edelman Trust Barometer
Yet this elevated trust comes with new and very high expectations. Even from this position of relative advantage, employers' performance in nurturing and validating this trust is currently falling short. Especially within the context of change and transformation, employers are only partially delivering the information, empowerment and ability to co-create that employees expect. In fact, in some cases, performance falls short of employee expectations by more than 20 points.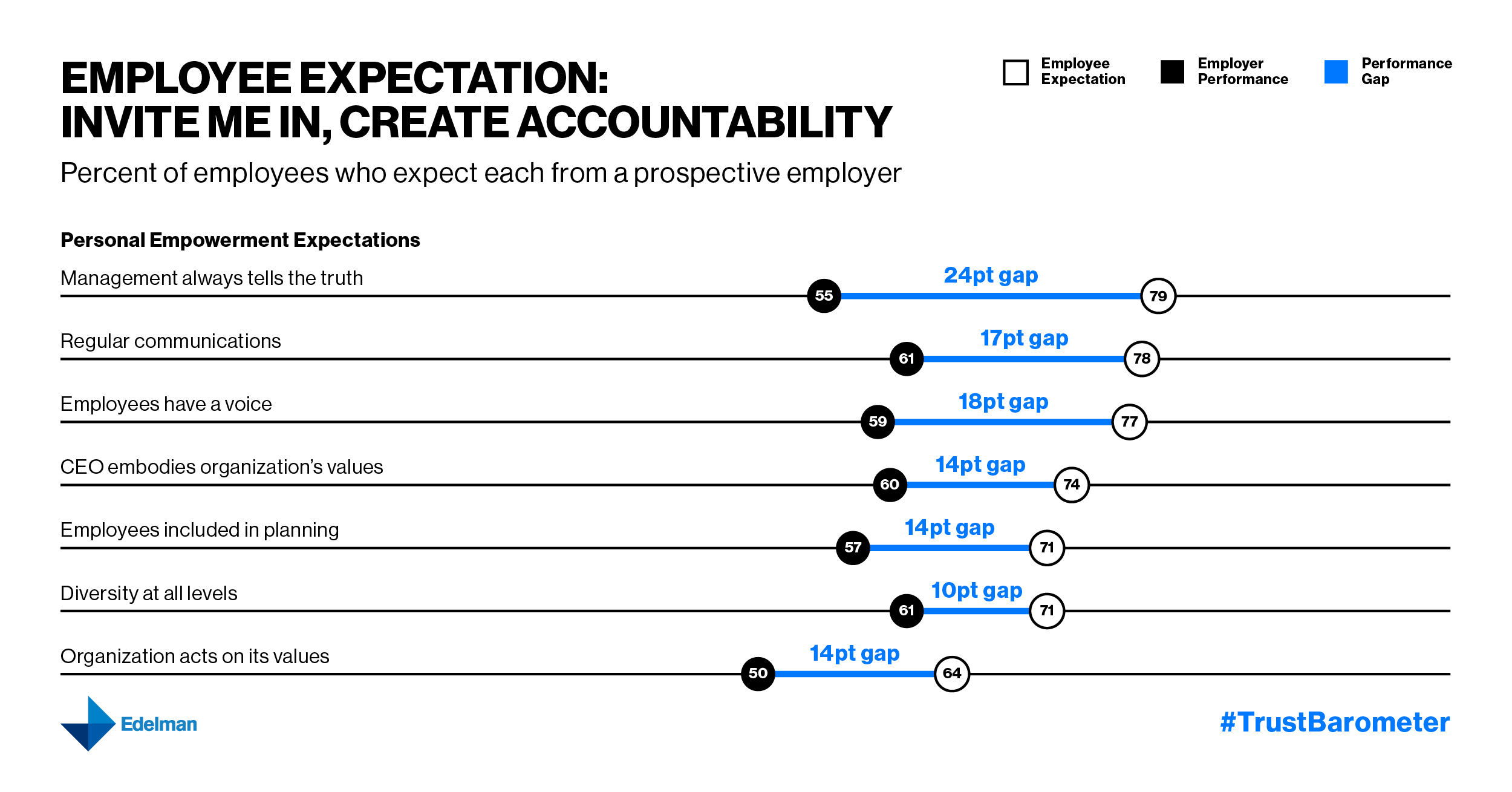 The downstream effects are significant: Customers increasingly scrutinize employee sentiment as an indicator of company trustworthiness (78 percent say how a company treats its employees is one of the best indicators of its level of trustworthiness), and without a beyond-satisfactory employer-employee relationship, external credibility and trust in the brand will suffer. Workplace trust facilitates brand success, and employee empowerment credibly amplifies brand voice to build value from the inside out.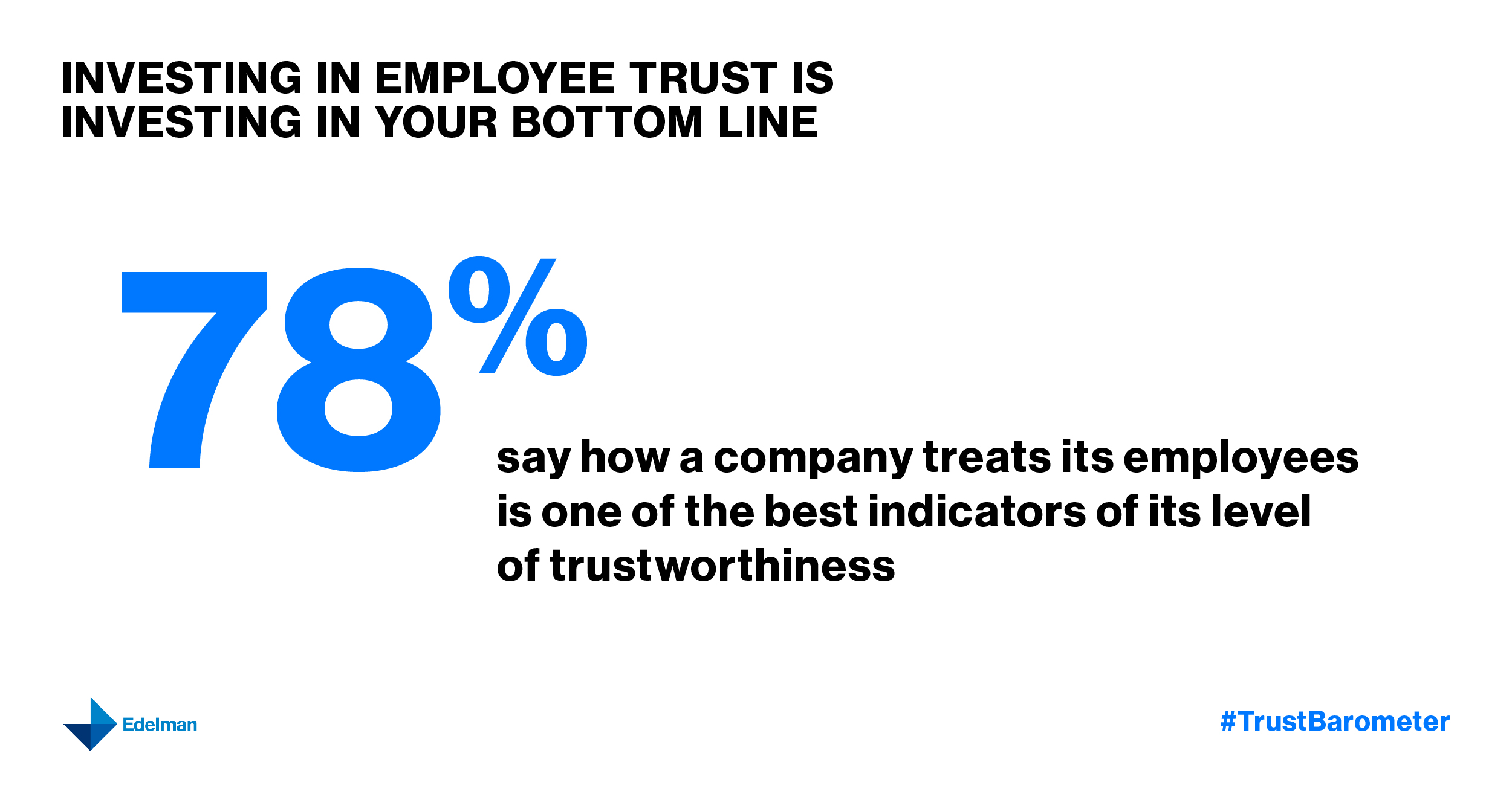 Trust at Work: A Partnership
As trust in media and government erodes, people are turning to that which they know and can control: the relationship with their employer. Fifty-eight percent of general population employees say they look to their employer to be a trustworthy source of information about contentious societal issues. A strong majority (71 percent) of employees agree it's critically important for their CEO to respond to and talk about challenging times and sensitive topics. More than three-quarters (76 percent) of the general population concur — they say they want CEOs to not only address issues, but actually take the lead on change instead of waiting for government to impose it.
Employees' expectation that prospective employers will join them in taking action on societal issues (67 percent) is nearly as high as their expectations of personal empowerment (74 percent) and job opportunity (80 percent). Because employees are looking for certainty in an uncertain world, business has an opportunity, even an obligation, to take a stand on issues and to drive informed conversations. This is bolstered from the grassroots level, as employees face their own pressure in response; a majority of the general population expects employees to pressure company management to weigh in on social issues (58 percent), participate in the company's social media activities (62 percent) and speak up if they see their company doing wrong (83 percent).
This expectation has tangible impact on employers' ability to hire and retain talent. Fully one in four employees say they would never work for an organization that lacks greater purpose or fails to deliver meaningful societal impact. Another 42 percent say they would need to be paid significantly more to work for an organization that didn't offer these elements of shared action. Employees want to work for a company that offers leadership, one that stands up for them and their shared values. Without these trust-building efforts, employers will lose out on top talent and be forced to over compensate for the talent that's left.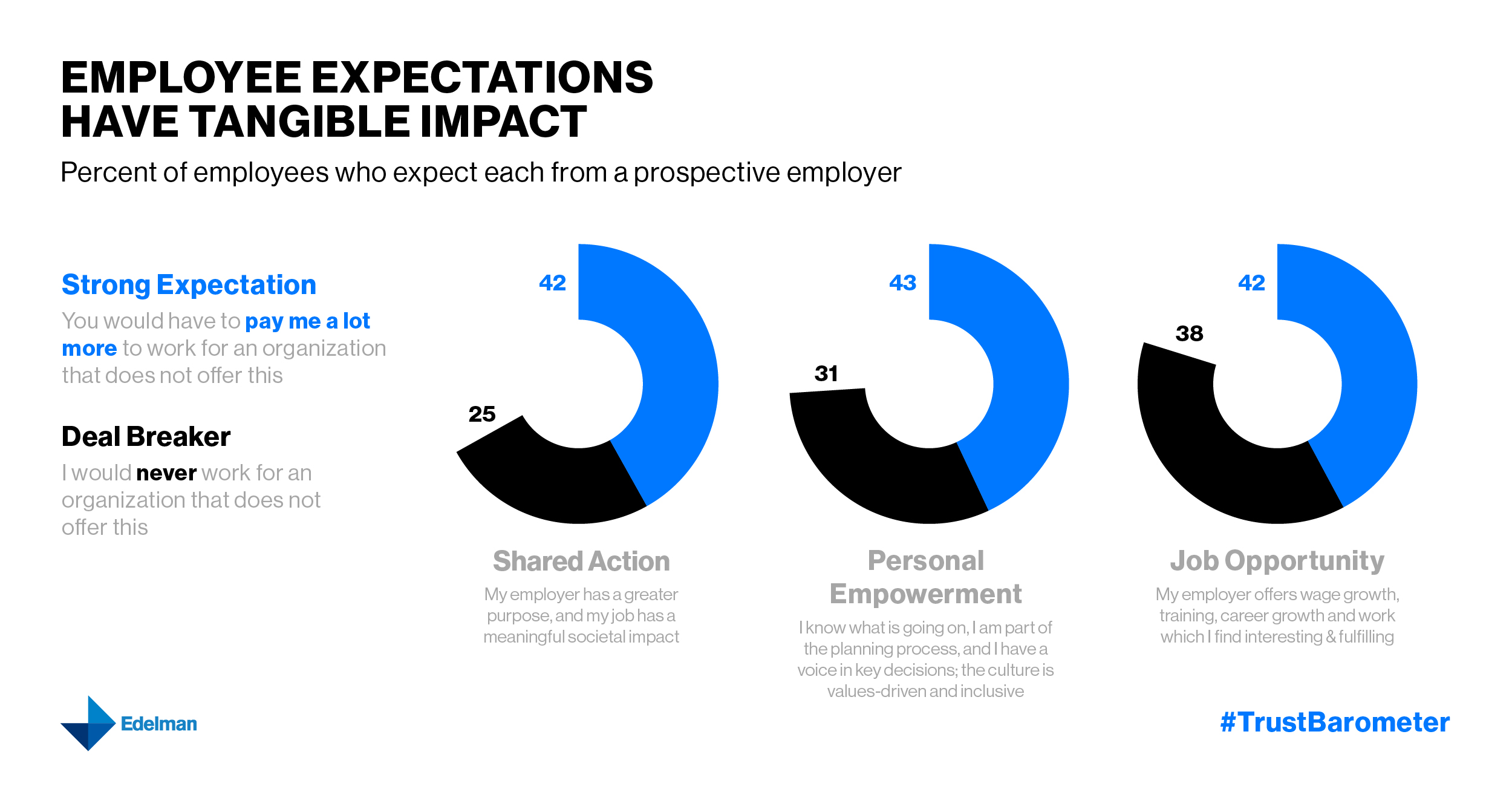 If employers deliver on these employee expectations, trust becomes a resilient advantage. Meeting employees' expectations builds strong trust, and strong trust delivers partnership behaviors with material benefit. Employees who trust their employers are far more likely to advocate on behalf of their employer (78 percent), stay loyal to their employer (74 percent), be engaged and live the organization's values (71 percent), and be strongly committed to their jobs and the customers they serve (83 percent). Not only does this heighten and expand customer satisfaction by deepening brand credibility in the marketplace, it also stabilizes companies working hard to compete for talent in a full employment market. Greater employee satisfaction leads to less employee turnover, and access to a more robust talent pool ensures talent acquisition investments are lower-risk. And these all contribute to increased external performance.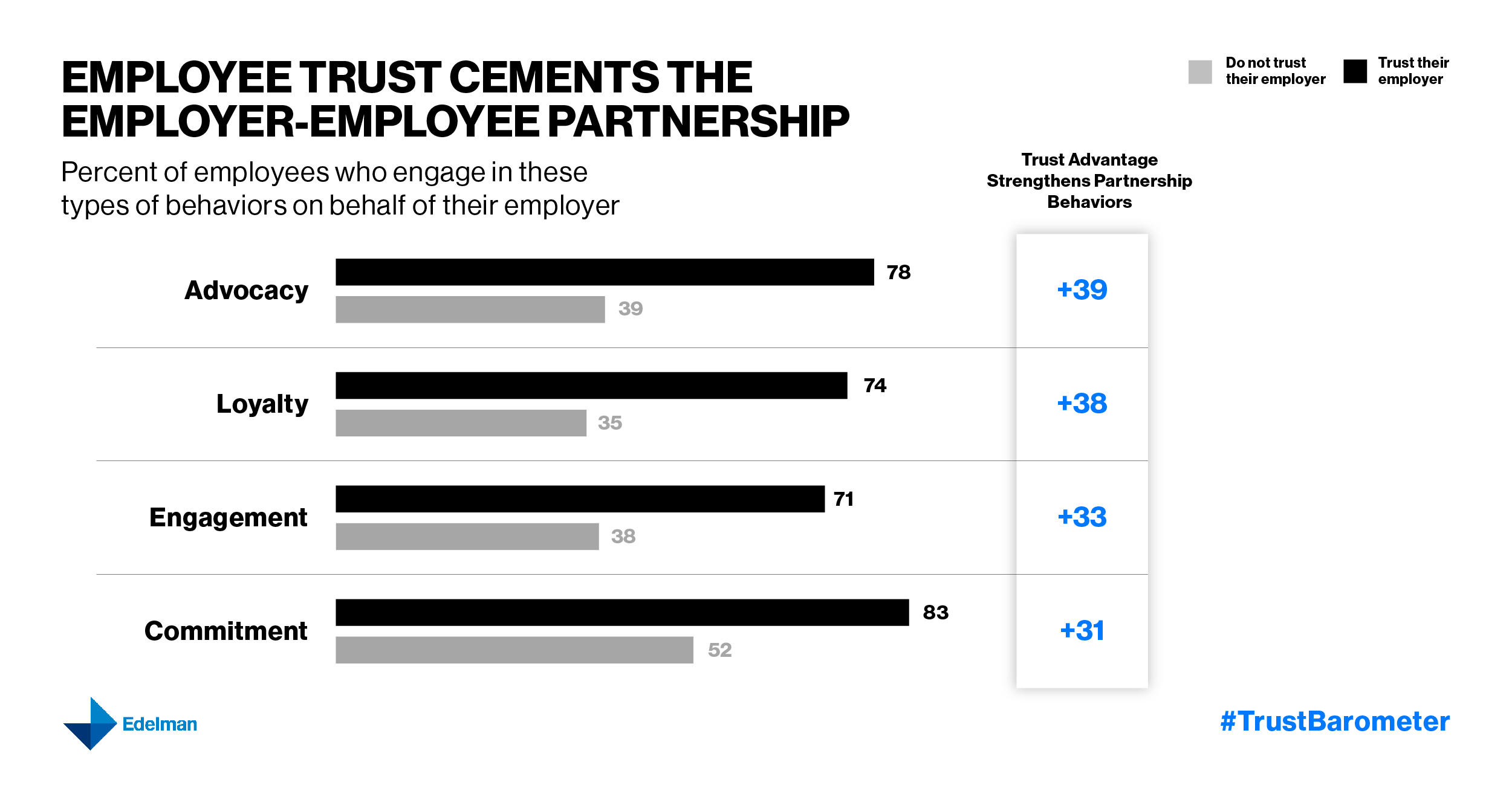 Putting Trust to Work: A New Employer-Employee Contract
In this context of expectation and opportunity, trust at work is now essential for corporate strategy. Building it requires a new and thoughtful approach. Here are five key actions any business can take to harness trust and put it to work:
Partner with employees on change. When a significant portion of employees globally (as high as 72 percent in India) state that the pace of change in the workplace is "too fast," the impetus is on employers to not just alleviate employee concerns around change but activate them as partners in the process. Employers must be transparent and aspirational about where they want to take the organization for the future, address concerns about the personal impact of change, and provide training that enables the employees of today to be employees of tomorrow. It is critical for a company to live out its values in its approach to leading transformation. Shockingly, only 38 percent of employees who have experienced workplace transformation say that their employer communicated effectively about the changes, and only 36 percent say their employers were honest about changes employees would face.
 
Rebalance the power. Fully 58 percent of employees believe they themselves are responsible for ensuring they have a successful career, yet 63 percent of employees also say that employers have "too much power and control over their workers' lives and well-being. There needs to be a greater power balance between them." Employers must give employees a voice, create opportunities for shared action—even co-creation—and empower them with information. It is important that employees feel like they can speak up about important issues without retribution. This does not have to be a democracy; rather, it is a participatory process. When employees feel empowered, they will become a source of building trust outside the organization.
 
Lead shared action. Even as partnership and a balance of power are key, employees still seek leadership from their employer to light the way on issues of societal impact: three in four employees (76 percent) say that CEOs should take the lead on change rather than waiting for government to impose it. This is a noteworthy 11-point increase over last year. As trust in government lags, the expectation for shared action with one's employer, beginning at the highest executive leadership levels, remains strong. Major and multinational employers must begin by exerting societal impact locally, solving problems at home that affect the daily experiences of their workforce. Employees agree that CEOs can create positive change in a number of areas, especially matters of prejudice and discrimination (64 percent), training for the jobs of tomorrow (64 percent), the environment (56 percent), personal data (55 percent), and sexual harassment (47 percent). Combine this with employees' even stronger expectation that their employer will deliver shared values (72 percent), greater purpose (71 percent), and meaningful work (71 percent), and the motivation is strong for employers to step into and become comfortable with their role as a trusted partner in change.
 
Harness peer communication. The most common source of workplace information is other employees (37 percent), even more than personal communication from one's manager (35 percent). This means that the employees who do trust you can be a megaphone within your organization if you partner with them. Partnering with trusting employees can also help employers to engage the distrusters, especially on the matters they claim they most want their employer to engage on: industry issues, political events, national crises, and employee-driven issues.
 
Build trust from the inside out. Finally, and crucially, a company must activate multiple channels of communication to truly extract the value of the trust it has built, both inside and outside the organization. Investors are increasingly taking note of how well organizations treat their people and how those people respond to the culture and environment an employer aims to foster. Eighty-two percent of institutional investors have said "my trust in the company" is important when considering a company to invest in; 69 percent of investors say that companies that prioritize their commitment to employees positively influence their trust in them; and 76 percent say ethics and standards drive their trust in where to invest, as shown to us last year in the 2018 Edelman Trust Barometer: Institutional Investors report. Knowing now that the general population expects employees to speak up if they see their company doing wrong (at 83 percent), and 67 percent agree that "unless I come to trust the company behind the product, I will soon stop buying it," the credible employee voice and its ability to reach customers is not merely a goal, it is a requirement. It begins with the CEO's personal commitment to being directly and visibly engaged; extends to the activation of the employee voice through empowerment and partnership; and culminates in external awareness of this intangible asset being woven throughout the organization.
At its core, a company's ethics is rooted in values and how employees behave—a reflexive relationship established at the highest levels. Trust, and trust to do what is right, is thus critical to creating investor value from the inside out.
With bold action and a redefined employer-employee contract, the potential for building trust with an organization's human capital has never been greater.
Cydney Roach is executive vice president, Employee Experience.