The 2019 Edelman Trust Barometer: Financial Services report indicates that trust in the sector is at its highest level since we started measuring it in 2012. But at 57 percent trust among the general population, financial services remains the least-trusted sector measured by the Trust Barometer. And despite modest gains broadly, more concerning to us in this year's report is the re-emerging trend of diverging levels of trust between the mass population and informed public.
Trust inequality returns to record highs
The financial services sector has returned to record-high levels of trust inequality. While the informed public trust levels have increased significantly from 2012 (49 percent) to 2019 (67 percent), trust among the mass population, which stands at 55 percent, does not reflect the same improved outlook today. This 12-point trust gap between the informed public and the mass population mirrors the 12-point gap we observed just as recently as 2017, which was a record high then. This disparity occurs in the context of a "mass-class" divide and is in the double-digits in more than two-thirds of markets globally, increasingly reaching into developed nations with egalitarian heritages.
Lead by innovating for inclusion
The financial services industry has moved rapidly to innovate as digital insurgents threaten to take market share from incumbent brands. In light of the growing divergence in trust between publics, it's important to recognize two equally important roles of innovation:
73 percent believe it's important for financial services to lead on creating and using emerging technologies that make doing business with them easier.
70 percent believe it's important for financial services to lead on social issues that make the world a better place for everyone.
Globally, the most important social issue for financial services companies to address is income inequality and financial security. Yet, the innovations designed to broaden access and help close the gap are lagging far behind traditional products and services in terms of trust.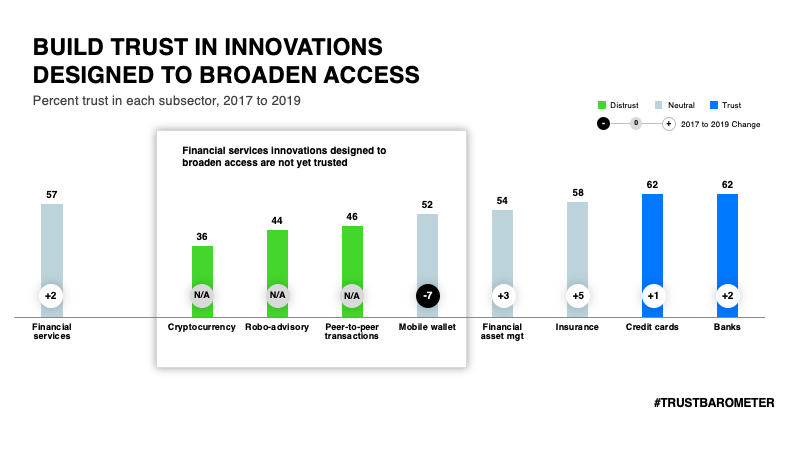 As the industry continues its digital transformation, customer experience with an emphasis on integration is critical: The most useful innovation when it comes to choosing a financial services company is a platform that integrates all aspects of a customer's financial life, selected by 53 percent of respondents in our study.
However, the most important innovations for financial services companies help make the system work for everyone:
Protecting data and assets
Fairer access to credit
Financial inclusion for the un- and under-banked
Digital gamification to advance financial literacy
Investing in employee trust is investing in your bottom line
Seventy-eight percent believe how a company treats its employees is one of the best indicators of its trustworthiness. Of all the relationships the public can turn to for guidance through turbulent times, one of the most critical to acknowledge is that of the employer and employee.
While the financial services sector is the least trusted, employees of financial services companies trust their employer to do the right thing more than employees of other sectors measured by the Edelman Trust Barometer.
For financial services companies, the potential dividends of this trust are significant. Trusting employees are far more likely to advocate on your behalf, stay loyal, be engaged and live your organization's values, and be strongly committed to their job and the customers they serve.
Deidre Campbell is global chair, Financial Services.