After the City of Chicago's previous administration defunded mental health programs, Mayor Lori Lightfoot tripled the city investment in mental health when she came into office. This city-wide effort increases access to care for areas in most need, including Black and Latinx communities who are disproportionately at risk.
Chicagoans talk a lot about a lot of things in their city — the weather, the sports teams, the potholes, the politicians — but one thing they don't talk about nearly enough is mental health. In fact, 40 percent of Chicagoans feel that mental health is one of the greatest challenges they are facing, yet deep-seated cultural and community stigmas, and lack of awareness of available resources often keep people from seeking the help they need. So, Edelman created the UN[ ]SPOKEN campaign, a campaign focused on driving awareness, reducing the stigma around mental health and directing residents to vital services available across the city's 77 neighborhoods.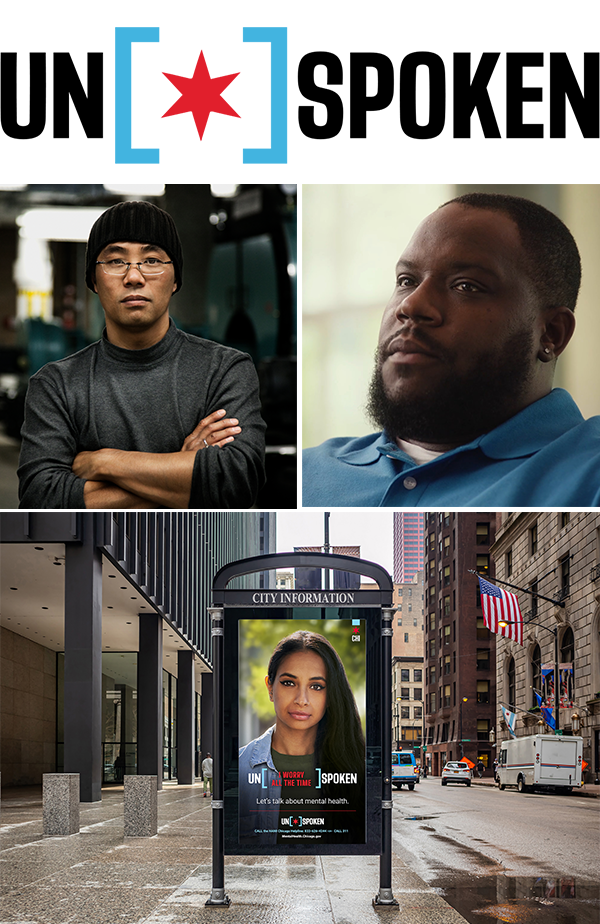 STRATEGY & EXECUTION
Too often, dealing with a mental health issue is a silent, internal struggle, and now more than ever, mental health services are in need because of the effects from the Covid-19 pandemic. In addition, studies show that Black and Latinx communities are disproportionately at risk, struggling to have their voice heard and unable to access the resources they need. Our team developed a campaign centered around raising awareness for mental health services and helping to dismount the stigmas surrounding mental health issues. We started by developing a comprehensive brand book, logo, and website, which features information about identifying signs of mental stress and where to find help.
At launch, this campaign featured a neighborhood-first approach, including targeted out-of-home (billboards, city information panels, CTA bus cards) placements that drove people to learn more and a full-page ad in The Chicago Tribune, a local, prominent publication. When conducting earned outreach, local media was targeted to discuss the campaign and revitalized mental health programs, while national media focused on Mayor Lori Lightfoot and her leadership's efforts to drive conversation around mental health and to ensure Chicago residents the support they need. Finally, we also featured the first of many powerful stories of remarkable Chicagoans taking steps to care for their mental health and the mental health of others through emotional video content and across all our campaign visuals.
OUTCOME
The campaign launched in late August 2021, and early indications are very positive:
The City of Chicago continues to promote the campaign in interviews, local newspapers and across the city's social media channels, City officials are also looking for opportunities to expand the campaign further with local celebrities.
Edelman secured both high-profile national and local news coverage
On the campaign website, we've seen a 39 percent conversion rate of visitors taking action and finding resource to support their mental health.