The Edelman Trust Barometer Special Report: Brand Trust in 2020 (NEW 2021 version here) reveals that brands face a fundamental reordering of priorities amid a global pandemic and societal outcry over systemic racism prompted by the murder of George Floyd. In this environment, consumers are looking to brands to act and advocate for change. 
53 percent of respondents say 'whether you trust the company that owns the brand or brand that makes the product' is the second most important factor when purchasing a new brand. Trust is second only to price (64 percent) 
70 percent say trusting a brand is more important today than in the past – a shared belief among age groups, gender and income  

81 percent say personal vulnerability (around health, financial stability, and privacy) is a reason why brand trust has become more important 

74 percent say a brand's impact on society is a reason why brand trust has become more important. 
Trust is now the make or break difference for brands.  
Time to Act: Brands Must Solve Problems and Advocate for Change
A global pandemic and economic crisis, and mass demonstrations over centuries of systemic racism and racial injustice have pushed brands to the forefront of societal change. It's not enough for brands to issue a statement or make an emotional ad. Consumers expect that brands will act and advocate on the personal and societal issues that affect their lives.
An overwhelming majority say solving problems big and small matter most for brands today. 85 percent want brands to 'solve my problems', 80 percent want brands to 'solve society's problems', 69 percent cite being a dependable provider, 64 percent cite being a reliable source of information and 63 percent cite being a protector.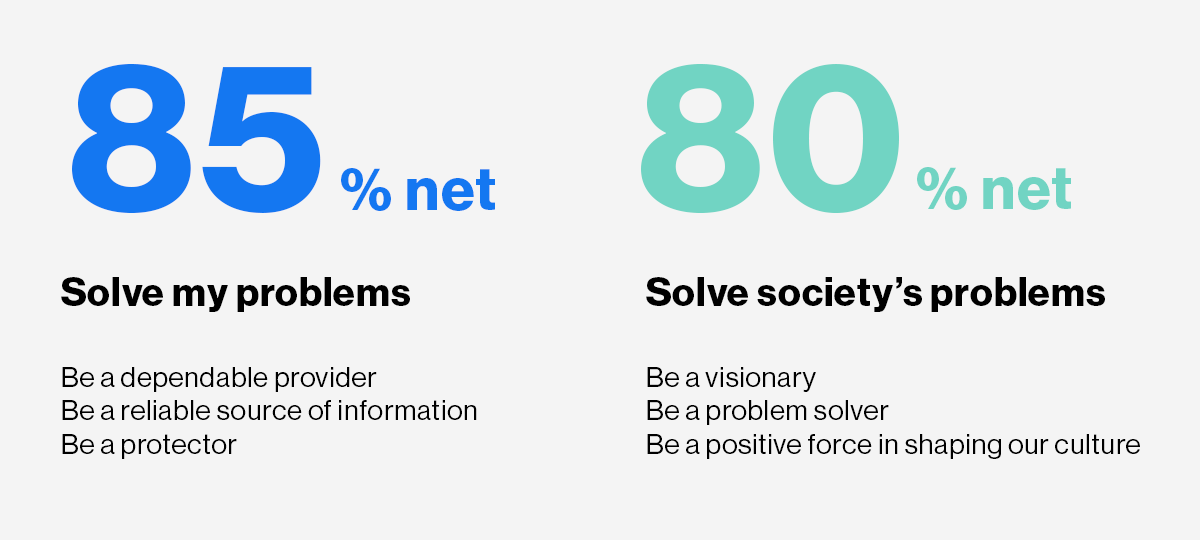 When looking at today's problems, people want brands to be more accessible and keep us safer. In the face of the Covid-19 pandemic, people want brands to protect the well-being and safety of their employees and suppliers even if it means suffering big financial losses until the pandemic ends (90 percent) and to partner with government and relief agencies to address the crisis (90 percent).  
Moreover, in response to racial injustice (from Edelman's recent Trust Barometer Special Report: Brands and Racial Justice in America'), brands in the U.S. first must get their own house in order by setting an example within their organization (64 percent), by reflecting the full diversity of the country in their communications (63 percent) and by making products accessible and suitable to all communities (61 percent). And there are severe consequences for brands that fail to do so, with 52 percent of respondents of color saying that they will not work for a company that fails to speak out on addressing racial inequality, and 60 percent of Americans buying or boycotting a brand based on its stand on racial injustice. 
Our data shows that it's not enough for a brand to simply take a stand. Real action is needed, otherwise brands will be seen as exploitative or as opportunists.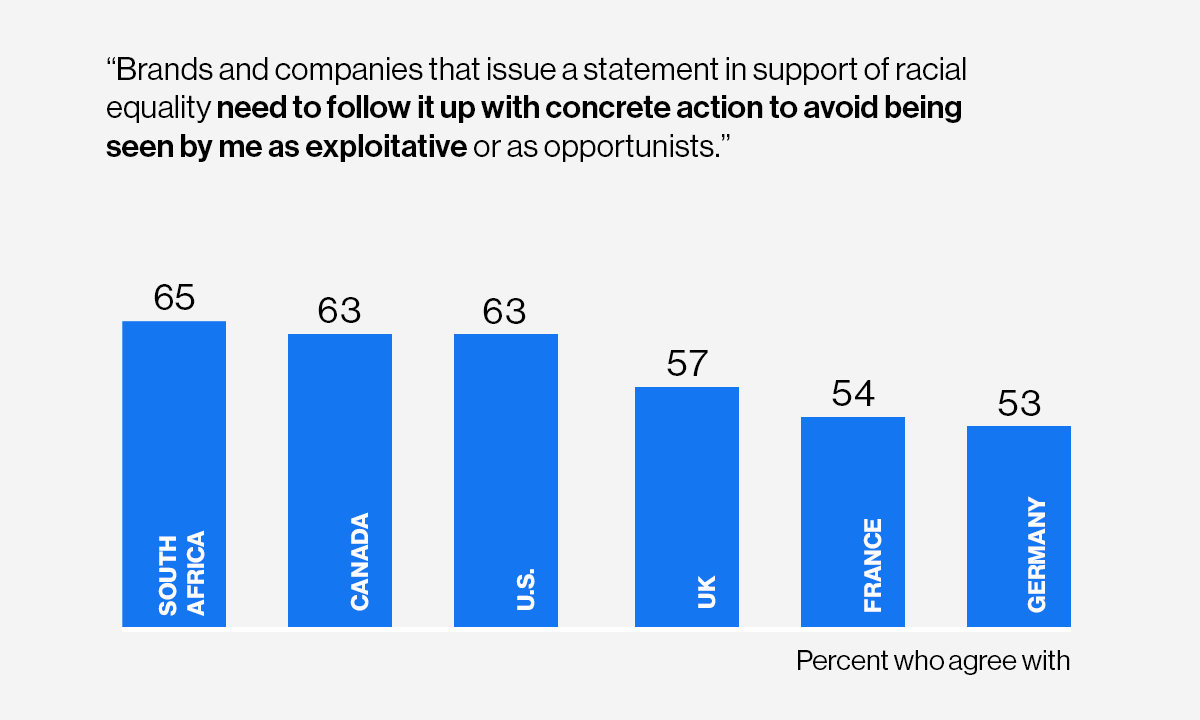 Brand trust is earned, not bought 
Earned media is the battleground where trust is won or lost. Personal experience and earned media were found to be the most important factors in the gain or loss of trust amongst respondents. Influence is built through authority and empathy, with industry experts and people like themselves rated as most credible (60 percent and 59 percent respectively). 
Advertising's effect has become diminished. Now, nearly 7 in 10 say that they use one or more advertising avoidance strategies. The shift from 2018 to 2020 has shown double-digit increases from those who avoid ads by using ad blocking technology (+10 pts), paying for streaming services (+15pts) or findings ways to avoid almost all ads (+12pts). 
There is a place for advertising, and it is with messages centred around solutions. In fact, 61 percent say they respect and appreciate when brands spend money to keep them informed about what they're doing to help others during the pandemic. 
Trust Defines Brands
Ultimately, trust unlocks deeper, more resilient relationships between the brand and its consumers. We found that those who highly trust the brands they purchase will reward them with loyalty, engagement, and advocacy: 
Loyalty: 75 percent of people with high brand trust say they will buy the brand's product even if it isn't the cheapest, it is the only brand of the product they'll buy, and they will immediately check out a new product from that brand to purchase 

Engagement: 60 percent of people with high brand trust say they're comfortable sharing personal information with the brand, and they pay attention to the brand's communications 
Advocacy: 78 percent with high brand trust say they'll likely share or repost content about the brand, they will recommend the brand to others, and they will defend the brand against criticism 
The Edelman Trust Barometer Special Report: Brand Trust in 2020 shows that in the face of global crises, action and advocacy leads to trust. Brand trust now lives at the intersection where personal and societal issues converge, and where words are backed by action. The time is now for brands to take a stand and advocate for change, inspire hope, and use their scale for good to improve society.

---
Discuss the report with an Edelman advisor
---
Methodology
The Edelman Trust Barometer Special Report: Brand Trust in 2020 was conducted by Edelman Intelligence between May 27 – June 5, 2020, surveyed more than 22,000 respondents in 11 markets: Brazil, Canada, China, France, Germany, India, Japan, S. Africa, S. Korea, UK and U.S. All data is nationally representative based on age, region, gender and additionally in the UK and U.S. by race/ethnicity.