If I look back a year ago, I can recall the mixture of emotions—the fear, the uncertainty, the confusion, the boredom. I also vividly recollect the heightened role food played in our life. But it was different. In many ways, food became more practical but at the same time, more powerful. This may sound familiar. Many of us looked to the food industry as the ultimate essential—workers doing all they could to keep grocery aisles full, and to ensure our food deliveries were on time; brands and media inspiring us in the kitchen and even teaching many of us how to cook, while sharing a meal over video conference became something to look forward to. At the start, the industry seemed to rise to the occasion which in turn, gave us hope.
This optimistic dynamic was reflected in the trust increase we saw in our Spring Trust Barometer 2020 update. The industry experienced the biggest spike in years (+9 points) and with it an increased expectation for the industry to step up and to solve our individual and societal issues.
Yet, sadly, the industry did not continue to meet these hopes and expectations. Particularly in the face of increased negative headlines and conversations around the safety of workers and factories, the closures of our beloved restaurants, and the profoundly significant food inequity playing out in our local communities and media.
As 2020 came to a much-anticipated close, we once again assessed the state of trust. This analysis uncovered the rise of a raging 'info-demic', where business became the only trusted institution, and the untapped power of the employer-employee relationship was spotlighted. With the ups and downs we all faced, it is no wonder trust in one of the most fundamental of human needs—food and drink, was also put to the test. The industry experienced declines in 16 of the 27 countries researched with the UK, Canada and Mexico reaching an all-time low in Food & Beverage trust. And no category within the industry was left unscathed, from Grocery to Food Makers to Brewing and Spirits, the declines were across the board. The only category to remain flat was Fast Food albeit still in a neutral trust zone.
The Path to Rebuilding Trust & Resilience
As an industry, the time is now to come together, to build a roadmap for trust and resilience, to make a meaningful difference. Not just for the people who buy your products, eat your food, use your services but for your employees, your partners and the food system at large. We are often asked, where to begin? Through our ongoing research into Trust and our extensive client advisory work, we identified a number of system gaps, or root causes, behind some of the most pressing issues we face as an industry overall.
Innovation Gap – With business cultures often driven by quarterly earnings, many companies prioritize product innovation over ​system innovation​ when in fact there is an opportunity to reimagine not only what you are making but how you are making it and with whom you are partnering.
Inclusion Gap - The communities ​most in need of ​system change are also the communities most underrepresented across the industry, from production through to the board room.​
Information Gap – The opportunity to solve the inequity gap between the informed public and the mass population can begin by empowering all audiences and communities with transparent and accessible information on topics such as climate and nutrition.
Incentive Gap – In order to realise system wide impact, the industry needs to come together to incentivise stakeholders across the value chain.
Investment Gap – Gaining traction against the most pressing of issues requires a balance of investment both financially and from an information and education perspective.
These gaps, far from mutually exclusive, present opportunities for business and for brands to solve, to reimagine what innovation looks like, to design more inclusively and to inspire and educate the masses, not just the informed. The way forward will be to leverage the full power of your organization, the voice of the CEO; the reach, fame and relevance of your brands; as well as the increasingly advocating voices of your employees. And as we see from below, this internal voice matters now more than ever.
Our 2021 Edelman Trust Barometer also emphasizes that employer purpose and having a voice matters even more to food sector employees.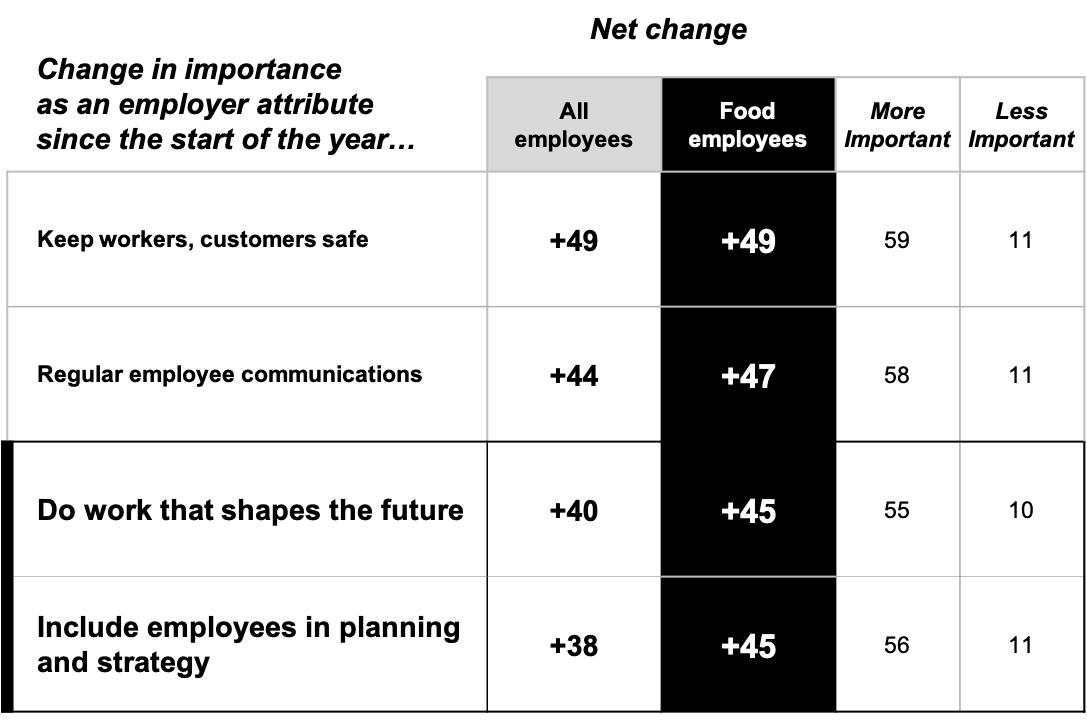 I am not naïve to the fact that what lies ahead is not easy. It will require more than a shift in mindset but there are inspiring examples of this drive toward change. For instance, Good Humor ice cream stepped up when it was revealed that the classic ice cream truck jingle had racist roots and decided to stop the jingle's hurtful legacy from reaching another generation. To make it happen, the brand joined forces with the iconic black artist, rapper and composer RZA (riza), who created a new jingle for a new era.
Going it alone is not an option. Not for the destination we need to achieve. I had the privilege of talking to a selection of expert voices and leaders across all aspects of our industry to gain insight into the way forward. And here's what they had to say:
---
"Now more than ever, consumers are desperate to see inclusivity, accessibility, and—possibly most importantly—transparency from their favorite brands. The more open and honest a company can be with the audience, the deeper the connection they'll build with them."
Jo Saltz, Editorial Director of Delish
"The past year has reminded us of the critical role that the food industry plays in society, particularly in times of crisis.  We've worked tirelessly to be there for our employees, customers and consumers during the pandemic. This laser focus must continue to maintain reputation gains and to close the trust gaps. It's a long-game, but one we can win by working together as an industry and leading with purpose."
Lisa Gibby, Nestle Global Head of Corporate Communications and Public Affairs
"As a new brand and product, building trust with our community of early customers is crucial. We speak directly with our customers via social media and our customer support channels, and we are constantly looking to them for input, feedback, and even opinions on things like what charity partners we should support and what flavors we should launch next. Transparency and clear communication between us and our community is a crucial part of launching a brand in the current environment."
Mayasa Chehata, founder of Behave
"Internal communication has risen to the top of the agenda as employees have been looking more to their employers for trusted information. Organizations have responded by creating new approaches to enlist two-way communication and demonstrate the humane, authentic side of leaders. New ways to communicate have fostered trust, especially in F&B where employees are dispersed and often remote. 76% view 'my employer' as a beacon of trust. Why? Because it's local, tangible and personal."
Nicole Linger, EMEA Head of Employee Experience & Change, Edelman
---
I will close with one simple thought. We have the gift and the responsibility of operating in one of the most beautifully human and vibrant industries – Food & Beverage. It's an industry where trust matters, more than ever. By joining forces, we can ensure a brighter future for food and beverage overall, but more importantly, for every single human being it touches.
Megan Van Someren is Global Brand and Food & Beverage Chair